The Viatgem de la Generalitat Valenciana Tourist Pass can be requested from this Tuesday 20th October. The vouchers will cover tourist products contracted by Valencians within the Comunitat Valenciana up to 70% of the total price, for a maximum amount of 600 euros.
Those interested may apply for the grants from 12.00 noon on 20 October, and all persons registered in the Comunitat Valenciana may benefit. The registration will be done in a platform created by the regional administration that will generate a code to exchange it in the tourist establishments or travel agencies adhered within seven days.
The application is made through the platform https://bonoviajecv.gva.es (it will work from 12 noon on October 20th). From this page, the user can choose to benefit from a voucher in the member companies, which will allow them to save up to 600 euros in any of the associated accommodations in the Comunitat Valenciana. On the platform, users are asked to identify themselves with an email and a password to access the advantages of the Bono Viaje.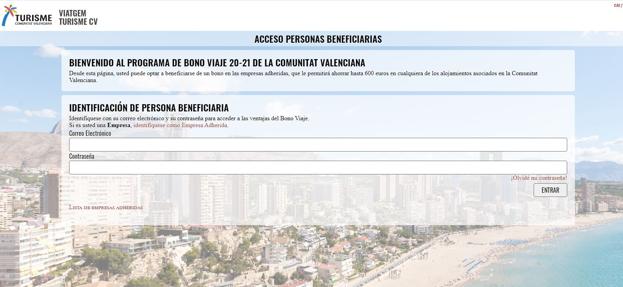 In bonoviajecv.gva.es you can also find a list of companies -more than 250- and travel agencies adhered to the Bono Viaje CV program. From there, a link will be enabled to book the trip or stay chosen by the user.
There will be three calls for applications: from 20 October to 31 December; from 1 January to 24 March 2021 and from 13 October to 31 December 2021. Each person will be able to apply for one grant for each period.
The minimum stay will be two days, and both accommodation and health and welfare services, sports, excursions and entertainment activities and parking may be subject to the grant.